Take Bookings 24/7 with TourTools® Online
Look Great on Mobile
Our web interface allows your clients to view and book tours easily on all their mobile devices.
Sell More – Maximize Conversions
Avoid lost bookings, missed deposits and refunds with TourTools® automated processes.
Accept Bookings 24/7
Eliminate barriers to booking. Allow your clients to check availability and book outside of business hours.
Save Admin Time – Avoid Errors
Online bookings eliminate admin phone calls, phone tag, and endless emails.
Automated Follow-up
Save time with our event tracking tools, and automated email reminders.
Optimize Your Workflow with TourTools® Online
With TourTools® Online you can create complex tour packages in minutes and then, with the click of a button, publish the tour to your website – READY FOR BOOKING!
Easily update your web pages with photos and maps and add/delete tours from your website. Control inventory, last-seat sales, tour package prices, passenger lists and manifests- everything can be managed from within your TourTools Back Office system.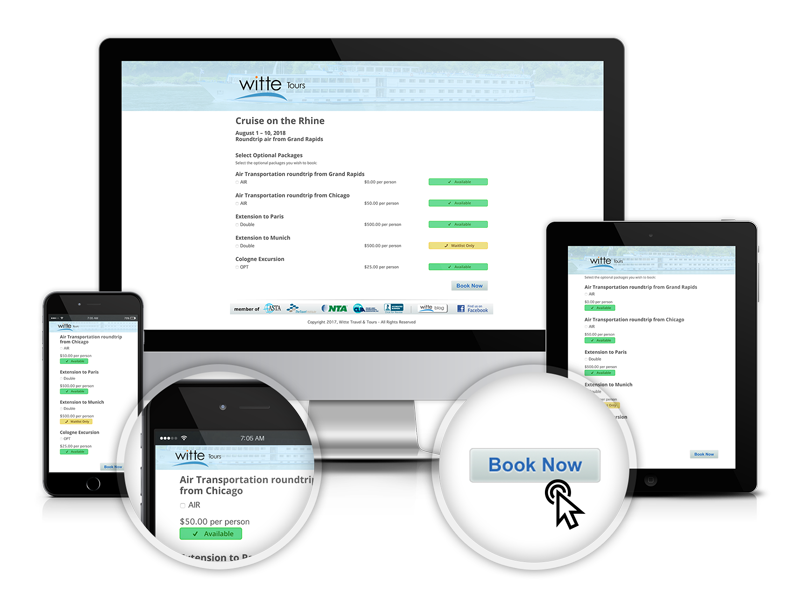 Easily integrate on-line reservations and bookings into your website. Increase sales and lower your operating costs by providing your clients easy, secure access to:
Online tour schedules and itineraries
Check for availability and pricing
Make bookings with deposits
Change passenger names
Request changes or cancellations
Request information or brochures
Group Tours – Direct Booking

For operators working with pre-formed groups, unique group codes can be issued to group leaders and members so that only members of that group can access the group tour itinerary and packages. Group leaders can make the bookings for the members or members can log in and book themselves.
Group leaders also have special reports to monitor reservations for their departures, we have even included a quick email feature so that the leader can contact members of their group.
Save
"Adding TourTools Online to our system back in 2012 was the most significant technological enhancement our company has made. The system has processed thousands of registrations and payments while simultaneously transferring the data into our Tour Tools system. Each transaction on the web is one less transaction that our accounting department has to manually enter. The web integration enables our team to analyze registration data in real time which helps assist us in managing our tours up until departure. There is no doubt this has contributed to our company's growth over the past 7 years."
"OARS operates whitewater rafting adventure tours in many different locations around the world. We began using TourTools in 2002 due to its feature set and the ability to customize the reservation system to meet our sometimes complex or unique needs and requirements. We added online reservations, online forms, and online reporting capabilities over the years which saves time for our staff. Our clients also appreciate the ability to book a trip and submit their information online."
"The TourTools Online reservation system has allowed us to have a 24/7 presence without the overhead. Now, we capture revenue right when the client has made the decision to book. Many times this takes place on the weekend. Previously, reservation booking had to wait until Monday morning at 9:00am. This provided plenty of time to change one's mind. Now, on Monday those reservations are in the system and the revenue is in the bank."
Save time. Save money. Start now. Call (888) 822-7988.